Bahama shutters are one of the best choices for hurricane storm protection and good looks for homes and businesses in St. Petersburg, Clearwater, Sarasota, and throughout Florida. West Shore Construction specializes in Colonial and Bahama shutters for both protection and beauty, because we believe homeowners and commercial business owners benefit the most from their use.
Bahama Shutters and Colonial Storm Shutters: Providing Style and Hurricane Protection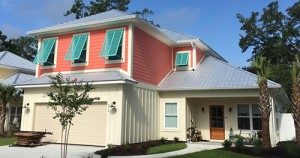 One of the obstacles most hurricane storm protection windows present is that they do not complement the design and look of the building. When you look at a building with a roll-up, accordion, or even attachment points for temporary hurricane protection, they stick out, resemble an afterthought, and are not at all included in the original design.
Colonial and Bahama shutters are old styles that have been used on buildings for hundreds of years. Initially, they were used to improve window protection and defense. Today, in addition to security, they are pleasing design elements that architects and building planners include in their designs for tasteful reasons. That's why they are the shutter of choice for homes, companies, and businesses in Sarasota, Clearwater, St. Petersburg, and seaside cities all over Florida, especially for hurricane storm protection.
Questions? Send us a message!
Bahama Shutters: Uniting Style and Function
Bahama shutters are a design staple in tropical climates for high-end homes. They are a perfect blend of both form and function. Their design is beautiful, while at the same time, they cover the window in such a way that they provide safety from the sun during the hottest summer days. At the same time, they provide privacy while allowing occupants to see outside.
Choose West Short Construction for Bahama Shutters and Colonial Shutter Hurricane Storm Shutters
During storms, or when hurricanes are advancing, you can lower or close our Bahama shutters or Colonial shutters to provide further hurricane storm protection for your window openings. Our company storm products are Florida Building Code approved. Traditionally, Colonial shutters, Bermuda shutters, or Bahama shades were made from wood. Wood lacks the required strength and durability to withstand time and the Florida climate. At West Shore Construction, our Florida produced Bahama shutters, and Colonials shutters are made with extruded aluminum with welded corners. This way, the entire unit acts as a single, durable edging. All frame mitered joints are honed, and the frame is powder-coated. The result is a durable, long-lasting shutter that looks like the most suitable wood. For openings that are not suitable for screens, we offer hurricane fabric for doors and porches. This accommodates all your home openings with complete storm and hurricane protection.
Hurricane Fabric
Some opening on your home will not accommodate Bermuda or Colonial storm shutters. A simple and extremely effect form of protection for those areas is the use of hurricane fabric. This opening protection not only meets but exceeds requirements of Florida building codes for category 5 hurricanes and the fabric panels are easy to install in most applications when storms approach Tampa Bay , Clearwater and St Petersburg. Hurricane Fabric panels are custom made for each opening and attachment points and fasteners are professionally installed just like the shutters so they meet the building code wind requirements for your area.
"Hurricane Shutters Near Me"
The most important part of your hurricane preparation is not to start to late. Now with the world moving to new technology all you have to do is ask Alexa, Ask Google, Or your Bixby "hurricane shutters near me". With hurricane shutters they are many different colors and styles and provide you with the style and security you need. Hurricane shutters are your first line of defense when a storm is approaching. Make sure that you are prepared and call now (727)488-8182.