Hurricane fabric is an excellent alternative to hurricane panels usually made of heavy plywood, metal, or acrylic panels. Hurricane protection for building openings is vital when severe weather approaches  Clearwater, St. Petersburg, and anywhere in Tampa Bay or Sarasota Florida. It is imperative that you can quickly and easily cover up the windows and doors in your home or business to protect the contents and integrity of your building. Fabric is a versatile, extremely strong type of storm panel that can be quickly and easily deployed at a moment's notice.
The Benefits of Hurricane Fabric Protection
West Shore Construction's hurricane fabric panels use the strongest material available in the industry. The material absorbs the impact of and stops heavy flying objects carried by hurricane-force winds. These hurricane protection panels can also reduce Category 5 hurricane wind speeds from entering the structure they are installed on. They can be installed in open areas such as lanais and porches to stop uplift and stop projectiles from causing damage. Hurricane fabric also works well on all exterior doors, and garage doors, so there are many different uses around homes and other types of buildings in St. Petersburg, Clearwater, and Tampa Bay or Sarasota Florida.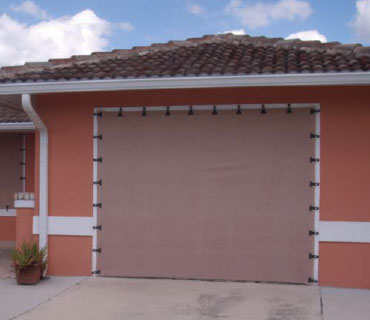 What you see above is the impact testing for Hurricane Fabric. Different forms of hurricane protection in Clearwater, St. Petersburg, Tampa, Sarasota and many other areas must be tested by a ballistic test that simulates windborne debris striking a window or product during a hurricane.
This procedure, as seen above, is done by a 2×4 15 lb. projectile at 50 mph at a predetermined location. This determines the resistance to airborne debris during a hurricane.
The first test as shown above is plywood, which majority of people feel is a safe and secure alternative to shutters. Unfortunately, as you seen, the projectile flies right through the board protecting nothing and resulting in catastrophic damage to your home.
The next test is shown is metal panels. Metal panels look secure and for the most part they are, but evidence doesn't lie. Not only are they heavy and take up a lot of storage room but they also crumble from the 2×4, forcing you replace all the panels in that opening.
Lastly, as you can see with the hurricane fabric. When the projectile is launched into the fabric, the fabric almost resembles a trampoline and bounces the projectile backwards. Causing little to no damage to your home, while the panel is unscathed leaving you and your family safe from the storm.
Professional Hurricane Fabric Panel Installation
Hurricane fabric storm panels are custom made for each opening of your home. The fasteners that attach the panels to your home are specifically spaced to conform to the building code in your location. West Shore Construction can provide professional installation, so the panels conform to Florida building codes and will be insurance approved for storm protection. Installation is available on the west coast of Florida including Clearwater, St. Petersburg, Tampa Bay, and Sarasota.
If you would prefer to do it yourself, West Shore Construction can custom cut the panels for the openings of your home or business and provide you with instruction as to how to install the panels yourself. Call West Shore Construction today for an estimate on hurricane fabric panels for do-it-yourself projects. Typically, pricing for these DIY hurricane fabric panels runs around $6.25 per square foot.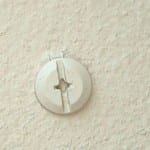 Why Choose West Shore Construction?
The benefits of choosing West Shore Construction's storm protection solutions are endless. For example, our panels offer:
Strength and durability
Intelligent design
Storm safety and full protection
Easy, simple setup
Residential and commercial use
Affordability
Florida building code approval
Insurance windstorm mitigation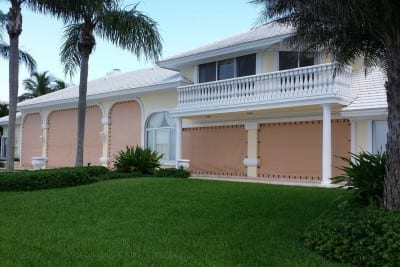 Hurricane Fabric is a resin-coated hybrid fabric that has nearly twice the burst strength of our closest competitor, providing unmatched protection from hurricanes. Hurricane Fabric delivers "full envelope" protection if your home or commercial property, against hurricane force winds and preventing the rapid pressurization of the building. This rapid pressurization is what causes roof lift-off and catastrophic damage. Hurricane Fabric weighs just ounces per square yard making it one of the easiest systems to manage.
You will not have to resort to hammering large, heavy, cumbersome wooden or metal hurricane protection panels in your window frames thanks to West Shore Construction. Call us today before the storm rolls into Tampa Bay Florida areas like Clearwater and St. Petersburg so we can help protect your property.
Call West Shore Construction Today For the best Hurricane protection in Florida
You can protect your property from flying debris and also projectiles with our simple-to-use panels. Our hurricane fabric panels are lightweight and also easy to store. The fabric panels and fasteners all meet Florida building codes as well as Miami Dade County hurricane testing codes. If you live on the west coast of Florida in Clearwater, St. Petersburg, Tampa Bay, Bradenton or Sarasota and would like to get an estimate for professional installation of storm panels, call today. You can reach us at (727) 488-8182 or contact us online to learn more about us and our Florida remodeling services.