Office Painting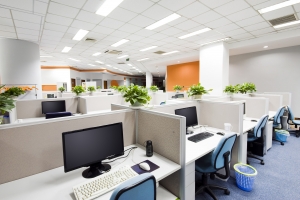 A freshly painted office creates a professional work place where employees will enjoy working and company productivity improves. The company's image is tied to the look and feel of your office environment and hiring a Tampa Bay office painter to refresh the look of your office with a new coat of paint can make a huge difference. In addition to that your employees, customers and potential new hires will judge your office and company when they enter your building in Tampa, Clearwater or St Pete. You never get a second chance to make a first impression. By taking care of the office painting when it is needed you will save money and enhance the look of your work place.
Other considerations in hiring a professional commercial painting contractor to paint your office interior and office exterior are the style of paint and paint color selection for your office walls. The use of color in a work environment can not only update the look of your office but it may also affect the attitude and productivity of employees. Office painting is also one of the least expensive painting services to improve the look of your business and it is a great investment. If your business in Tampa, Clearwater or St. Petersburg is a sales organization be sure to ask us for suggestions on which colors can help keep your sales staff motivated and increase closed business. If you have a medical office to paint the look and feel you will want in the doctor's office, examination rooms and waiting room environment is one where patients are calmed by the colors used.  The use of a faux finish will make these rooms feeling warmer, inviting and more luxurious.  We can also create a custom mural that can make a room seem much larger or transport visitors or patients. Consider that a custom mural is much less maintenance and trouble than an office aquarium that might be used for the same purpose.
Call Today For the Best Office Painting Company
in Tampa, Clearwater or St Pete 727-488-8058 or 727-488-8182
If you are concerned about customers or patients with respiratory sensitivity or allergies the use of low VOC paints or zero VOC paints will protect them from the fumes that vent from most paints.  If your office painting is taking place in a doctor's office where your patients are either very young, elder or have serious health issues this will lower the risk to those patients who might react negatively to other toxic paints. Be sure to ask your West Shore painting consultant about low VOC paint and zero VOC paints.As professional commercial office painters in Tampa Bay Florida we are accustom to working around the business hours and the needs of a wide variety of Clearwater, St. Pete, and Tampa companies.  The presence of our painters will not interrupt the routine of your company.  If you need us to arrive at the end of your company work day to start our interior office painting we be glad to do so.  We also will work on the weekends to get your business painted at your convenience.  In addition to normal office furniture many business have expensive and sensitive equipment that can be harmed by the painting process.  We will take whatever measures are necessary to protect your company's valuable assets during the painting of your office.  This also includes the personal items employees normally have in their office space.  These considerations are the reason it is important to hire a professional experienced licensed and insured commercial painting company.
If you are ready to improve the look of your business by having your office painted, call us: Tampa, Clearwater, St. Pete, Pinellas and Hillsborough 727-488-8058 or 727-488-8182.