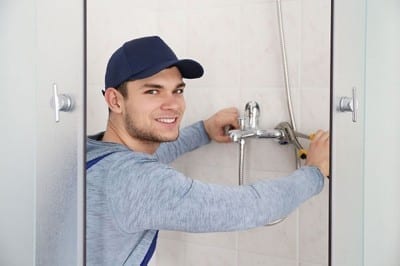 Working with the best bathroom remodeling company in Clearwater, St. Petersburg, and Tampa, Florida is an excellent way to improve the value of your home. It is also an excellent way to improve that area of your home's living space where you are guaranteed to spend time every day.
Does your bathroom need a simple update to make it look more contemporary? Or do you want to create a luxurious spa space and getaway retreat in your home? West Shore Construction can help make your bathroom remodeling vision come true today. The process starts with a thoughtful look at your design objectives. You may want to keep everything within the existing walls and boundaries of your current layout and simply update the fixtures, cabinets, as well as wall and floor surfaces. Even these simple changes can make a remarkable difference in the look and feel of your bathroom.
While the simple approach to bathroom remodeling keeps the construction budget down, you can also choose a more lavish route. You may want to expand your space by moving walls and bringing in light through new skylights or windows. By raising the ceiling, you can create a truly dramatic effect that makes the room feel larger than before. West Shore Construction is experienced and capable of home improvement services that meet your needs in Clearwater, St. Petersburg, and Tampa, Florida.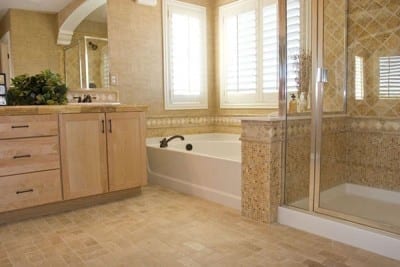 Choose West Shore Construction, an Experienced Remodeling Contractor
Our experienced team is ready to advise on bathroom designs as well as building and decorative materials such as stone and tile. We can also suggest the best bathroom remodeling construction approach based on your home and budget.
Drawing on over four decades of experience, we will help guide you in the selection of fixtures and other material choices to make sure we achieve your design dreams and keep the project within the budget you have set. Style and design choices are vast, and we know the best sources give you the look you want at the highest quality and best price. Maybe the most important thing we bring to the bathroom remodeling projects for Clearwater, St. Petersburg, and Tampa, Florida homeowners is our ability to listen to you and understand what you want. We also have the knowledge to make it happen; from plumbers to tile setters to electricians to interior design, we have you covered.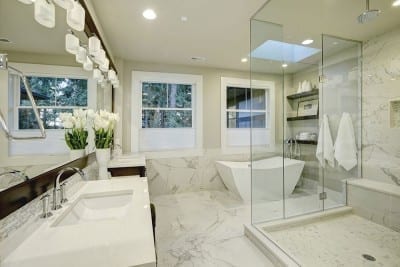 Bathroom Remodeling on Budget
Most homeowners want their bathroom remodeling project to be a sound financial choice. Remodeling any room is a great way to increase the value of your home. Again, we will listen carefully to understand your goals for your renovation. Perhaps you are making this home improvement with the objective of selling your home quickly and for the most money. Maybe your plan is a long-term investment where the materials and design should remain classic over a long period of time until the day when you are ready to sell your home. Either way, the enjoyment and satisfaction you will feel from the best remodel in Clearwater, St. Petersburg, and Tampa Bay will bring you and your family lasting joy and satisfaction.
Call West Shore Construction Today
When it comes to bathroom remodeling for homeowners in Clearwater, St. Petersburg, and Tampa, we want you to know that we care about you, your family, and your home. We want the projects that we complete for you to be something you are proud to show off. We also want to look back years from now and know that we made a positive difference in your family's life. When West Shore Construction remodels any home, we want it to be a pleasant experience for you as well as the team of workers we bring into your home.
Call us today at (727) 488-8182 or contact us online to schedule an estimate. We serve clients all over Clearwater, St. Petersburg, and Tampa, Florida.