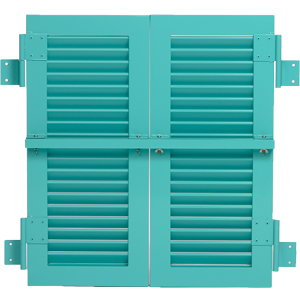 Bahama and Colonial hurricane shutters are two of the most practical and aesthetically pleasing ways to protect your home from storm damage. Both styles have been used for centuries to protect window openings from storms as well as being used as a general security measure. The look of Colonial shutters is often intended as a design element for homes in Clearwater, St. Petersburg, and Tampa Bay. Check out our portfolio here. 
Architects and home designers add these shutters for aesthetic and safety reasons. The addition of window coverings can truly make your home look better. This is very different from the appearance accordion and roll-down styles offer, which most homeowners believe detract from the appearance of the home or business.
Hurricane Shutter Materials and Construction
The original traditional Bahama and Colonial shutters were built from wood, and although this was the material of choice at the time, wood requires continuing maintenance and is simply not as strong as metal. Today, we build our Florida-made Colonial hurricane shutters from extruded aluminum. We attach the corners with mitered angles and then weld them together. Finally, we finish the welds, so the frame becomes one solid piece and they look similar to wood.
We manufacture our Colonial hurricane shutters in a way that creates an incredibly strong frame. The finish that we apply to the Bahama and Colonial shutters is a durable, tough, beautiful powder coat finish available in a wide variety of colors. This finish will stand up to the sun in a subtropical or tropical climate, and even in a coastal saltwater environment like Clearwater, Tampa, or St. Petersburg.
Questions? Send us a message!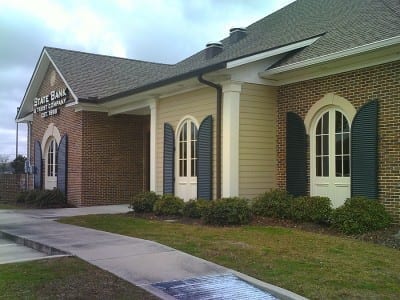 The Benefits of Colonial Hurricane Shutters and How They Work
The operation and deployment of Bahama and Colonial hurricane shutters is very simple. Because they are an architectural design element of your building, they remain in place year-round and look beautiful. Not to mention, there are also very few moving parts, so when a storm approaches Clearwater, St. Petersburg, or Tampa, you simply close and secure them in place.
One of the challenges with accordion and roll down styles is the mechanisms are much more complicated. This means that you need to check them periodically and perform maintenance. Therefore, when a storm approaches, they are fully functional. If you do not inspect and maintain them, you may find your roll-down and accordion coverings are malfunctioning when a hurricane is at your doorstep. Always make periodic checks to be sure they are in working order.
West Shore Construction Bahama and Colonial Hurricane Shutters
Our Colonial hurricane shutters and aesthetic architectural Colonial shutters are custom-built to fit any opening. Furthermore, we can create a built-in style to fit arch top windows and any number of other custom applications. They are available in many standard colors, and custom colors are available as well.
In addition to residential Colonial hurricane shutters, you will see our Bahama shutters on many commercial buildings in Clearwater, St. Petersburg, Tampa and throughout the state of Florida.
Protect Your Home In Style
While colonial shutters provide your home with protection they also look great. There are many color options to choose from, allowing you to have full creative freedom. Furthermore, colonial shutters offer a few different styles that will all influence the look of a classic colonial home. Installing colonial shutters will significantly boost the exterior aesthetic of your home and catch the eye of people passing by or friends coming to visit. Protect your home in style with a product that gives you year round benefits and guaranteed deflection of any flying debris from storms.
Choose West Shore Construction Company in Tampa Bay
West Shore Construction has been serving homeowners and business owners in Clearwater, St. Petersburg, Tampa, Sarasota, and the west coast of Florida for over three decades. We always endeavor to provide our clients with the highest quality products at the best price. We provide this service as a family-owned business that are licensed and insured Florida state certified building contractors. Please give us a call today at (727) 488-8182 or contact us online to learn more about our services such as emergency home repair, and how we can be of assistance to you.